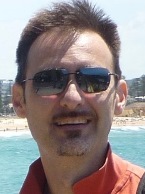 Short Bio
Giuliano Taffoni (male) PhD in Astrophysics and author of over 70 refereed papers, invited reviews, conference and technical papers. 
He is a development scientist at the Astronomical Observatory of Trieste. His main research activities involves Cosmology, HPC, Distributed Computing and Cloud Computing. 
Since 2006, he actively contributes to the International Virtual Observatory Alliance where he is the deputy coordinator of the Grid and WebServices working group. 
Since 2015 he coordinates the scientific applications WP activity of ExaNest Project for the design and development of the first European Exascale computing infrastructure.